We had a great cohort of students for Edge of Space 2023!
About
The University of Iowa offers undergraduates a paid summer research experience centered around space-based instrumentation for observing Earth and space. This immersive program will run for two weeks over the summer in Iowa City, Iowa. Students will be building small instrument payloads that will be integrated onto drone and high-altitude aerial platforms to take measurements of the Earth below and the atmosphere and space environment above. No prior experience in hardware, instrumentation or electronics is necessary. This hands-on experience is designed for all students who have an interest in Earth, atmospheric, solar and space science. Students from historically marginalized populations in STEM are highly encouraged to apply.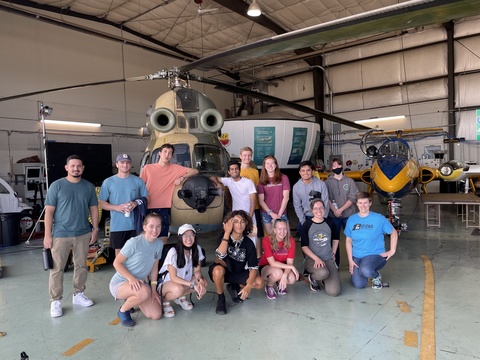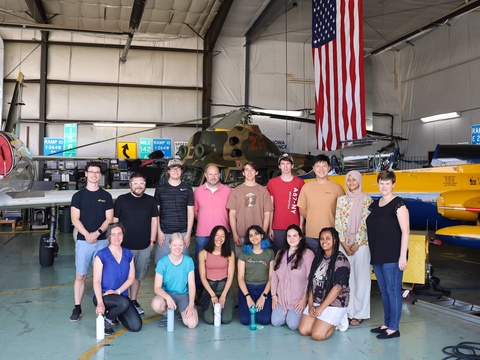 Who should apply
Current undergraduate students at 2- or 4-year institutions in the US. Foreign students studying in the US may apply, but funding is allocated for only domestic travel to Iowa. No previous research or programming experience is necessary, and there is no minimum GPA requirement. Applicants with backgrounds or identities historically marginalized in STEM are particularly encouraged to apply.
Financial support
$500 per week living expenses, an additional food allowance of $100/week. Housing and travel to and from Iowa City will be fully covered.
Research Experience
Students will work in teams to build instrument payloads and integrate them on an aerial platform. The groups will collect data and use that data to make findings about the environment they are observing. On the final days, student groups will present to an audience of students, researchers and faculty to practice their public presentation skills. 
Teams will rely on Arduino microprocessors as the control units for their flight instruments. Basic labs and practice will be offered to familiarize the students with the Arduinos and the programming environment. Students will have the opportunity to take on roles seen in full-scale NASA missions, such as Program Manager, Science Lead, and Systems Engineer. Discussion-based sessions will take place in the days leading up to flight to educate students on the Earth and space environment and provide a glimpse into the NASA mission process. Experience the full lifecycle of a true NASA mission in just over 2 weeks!
Sessions will take place that focus on critical skill-building in areas such as resilience, team science, bystander invention, imposter syndrome, mentor networks, scientific identity, and more. This holistic approach will strive to provide students with a range of tools and strategies that will serve them as they go forward in their academic and professional careers.